Some News and Views. . .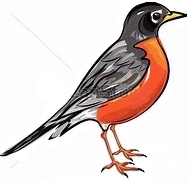 It has been a very long winter so the robin that I saw this morning was a welcome sight. Spring is finally here, and there is nothing like some sunshine and warmth to give your spirits a lift. I am looking forward to dusting off my golf clubs.

---
Every week we are in touch with other stamp dealers. The general consensus is that the stamp market continues to be strong and active. All kinds of things are in demand these days from better single stamps to intact collections and nice postal history.

One of the opinions that I hear voiced regularly is that there is not enough new material coming on to the market to meet the demand. Many dealers want to buy but are finding the competition fierce to buy the right type of material.
---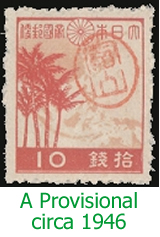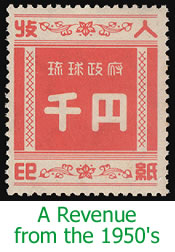 Many people had never heard of the Ryukyu Islands before 1945 when American troops fought their way ashore on the chain of Pacific Islands. The name of the main island, Okinawa, may be more familiar to you.
From 1945 to 1948 a local mail system used provisional handstamps and overprinted Japanese stamps. In 1948, the Ryukyu Islands started their own postal system and issued their own stamps that were valid on international mail. All of this was done under the authority of the United States military until the islands reverted back to Japan in 1972.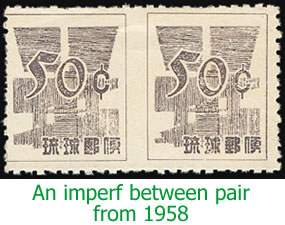 Some 259 stamps, along with overprinted varieties, forerunners, provisionals, and postal stationery make the Ryukyu Islands an interesting and finite area to collect. These stamps have always been listed in the Scott catalogues at the back of the USA section rather than under 'R' in the alphabetical listings. Our auctions regularly include Ryukyu Islands lots.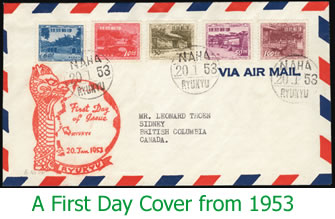 ---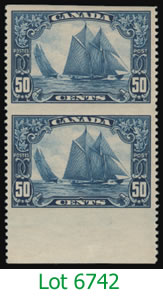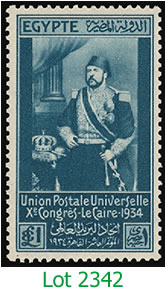 Once again, we are pleased to offer a wonderful cross-section of the world's stamps and postal history in Sale #337.
The enclosed catalogue has many scarce and desirable items throughout. Whether you are looking for a box to sort, a new country to collect, or a special set, you should find it in this sale. If you are looking for something to work on right away, you might find it on the list of Specials on the reverse of this letter, or on the much longer list
of lots at our web site. Good luck!