Some News and Views. . .
Many thanks to all of the bidders who made our March auction
a success. The stamps of China and India continue to attract high volumes of bids, and better older British Commonwealth singles and sets draw very aggressive bidding. As always, collections, accumulations and box lots are very popular.
We go to great lengths every auction to offer the broadest array of philatelic material possible. Our exhaustive travel schedule over the past few months has really paid off. Our company van has been full of new acquisitions on several occasions since the beginning of the year. Estate lots have also been arriving, including one in 20 cartons and another in 25 cartons. The latter was referred to us by another dealer who felt that the lot was too big for him, but he knew that our bidders could handle it.


---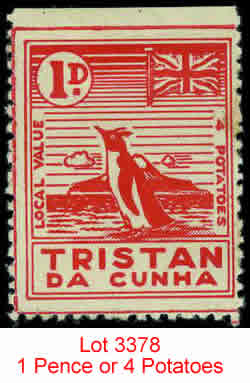 The most remote inhabited island in the
world has a very interesting philatelic history. A volcanic island in the middle of the South Atlantic Ocean, Tristan da Cunha was discovered in 1506, but because of its location, size (38 square miles), and rugged geography, it had no permanent settlers until 1810.

Annexed by Great Britain in 1816, Tristan da Cunha's tiny population of potato farmers and fishermen used the stamps of St. Helena. Wanting their own stamps, a petition was presented to the British Postmaster in 1946. Although the petition was not successful, the proposed stamps are still very interesting. Cash was in short supply on the island but potatoes were plentiful, so in addition to being valued in pence, each of the nine designs was valued in potatoes!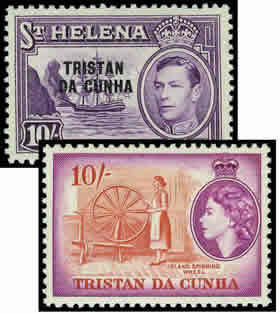 In 1952, a set of St. Helena stamps was overprinted 'TRISTAN DA CUNHA'. Prior to that various postal cachets were used on outgoing mail. It was not until 1953 that Tristan da Cunha had its very own stamp which was included in the omnibus set commemorating Queen Elizabeth's Coronation. By 1954 Tristonians had their first set of definitives.

Still only accessible by boat, Tristan da Cunha has a population of under 300 today. This auction has a great section of stamps and covers that tell the story of this fascinating place. Please see Lots 3339-3393.


---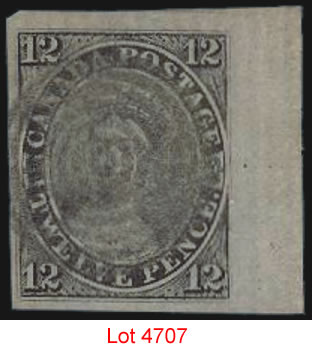 The May auction has a fine section of Canada including a rare 12 Penny Black used and Inverted Seaway errors, both mint and used. There are also great sections of United States, Newfoundland, Great Britain booklets and panes, Ascension with many varieties, Japan Karl Lewis illustrated covers, Italy WWII patriotic postcards, and Germany.

Unlike other auction houses, you never pay a Buyer's Fee at Vance Auctions. You only pay the hammer price and the cost of shipping plus any applicable taxes.

We hope that you will enjoy taking some time to study the catalogue as you never know what will turn up!