Some News and Views. . .


In August, my son Chris visited the APS show in Omaha Nebraska. The annual APS Summer Show is always one of the biggest stamp exhibitions in North America. He enjoyed meeting many of our bidders as well as visiting with other dealers. While in Omaha, Chris acquired some nice collections and individual items.

---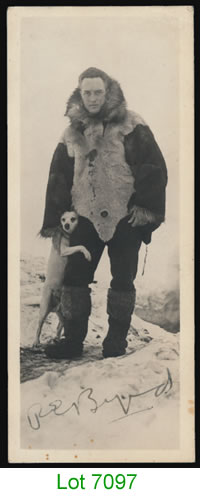 The name 'Admiral Byrd' conjures up images of cold, snowy, remote places. Even though Richard E. Byrd served in the American Navy in both World Wars and made significant contributions as an aviation pioneer and a scientist, he is primarily remembered as a polar explorer.
In the late 1920's when long distance aviation was still new, Byrd led aerial expeditions to both the North and South Poles. Although there is some question as to whether his plane actually reached the North Pole, his remarkable exploits made him a national hero in America and a celebrity around the world. His fame allowed Byrd to pursue his quest for more knowledge, and with the financial help of a number of influential Americans including members of the Rockefeller, Astor and Ford families, he made several more expeditions to Antarctica. The first of a series of base camps named "Little America" was established on the Ross Ice Shelf in 1929. Byrd's untiring efforts resulted in a wealth of new geographic and meteorological information.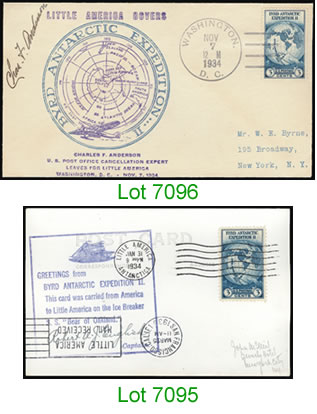 In 1933, the United States Postal Service issued a 3¢ stamp to commemorate the second of Byrd's Antarctic expeditions. The stamp was primarily for the interest of philatelists who could pay to have a letter mailed from "Little America". The Post Office was actually a tent where the US postal representative Charles F. Anderson huddled in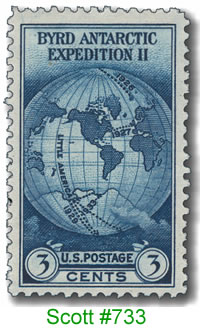 extremely cold and cramped conditions to apply special postmarks to the letters franked with Scott #733. Having visited Antarctica early this year, I can imagine how difficult his task was.
We are pleased to offer a fascinating section of polar expedition items that relate to the explorations of Byrd, Nansen, Shackleton, Peary and others. Please see Lots 7071 to 7105 in this sale.

---

Sale #340 is rich in nice singles, sets, postal history, cancels, errors and collections that do not turn up every day. You will find excellent sections of Canada, Newfoundland, United States, Italy, German Offices and Colonies, Great Britain, and Netherlands. The Canada Semi-Official Airmails are worthy of special attention as there are many rarities.
As in all of our auctions, there is no additional Buyer's Fee. Don't forget that we will be answering the phone until Midnight on the closing date to help you with your bids. Good luck!