Some News and Views. . .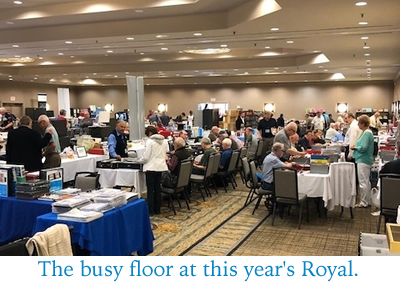 It has been over 40 years since Vance Auctions first took a booth at a stamp show, and it is still our favourite way to stay in touch with collectors. We enjoyed meeting many of our bidders at the recent Royal Philatelic Society of Canada Convention held at the end of June in Mississauga Ontario (a suburb of Toronto). Collectors came from far and wide to take part in the events, seminars, the bourse, and to view the impressive exhibits. It was a pleasure for Vance Auctions to sponsor the President's Reception on the Saturday night.

---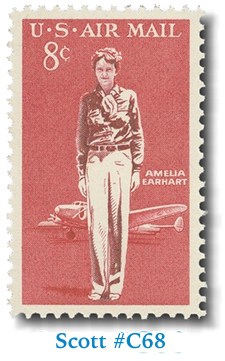 Like many people, I have always been fascinated by the life of the famous American aviator, Amelia Earhart. It is not widely known that she had a very special Canadian connection. While visiting her sister in Toronto during World War I, Amelia was moved by the large numbers of wounded soldiers that she saw in the streets. In 1918, she volunteered with the Red Cross as a nurse's aide and worked at the Spadina Military Hospital. While in Toronto she had the opportunity to watch the Royal Flying Corps training at their aerodrome, and her love of flying was born.
Before long she took her first lesson, and in December of 1921 she earned her U.S. flying license. She established many flying records and aviation "firsts" during the 1920's and 1930's, including being the first woman to cross the Atlantic Ocean in a solo flight in 1932. Her public life was managed by her husband George Putnam. To help finance her flying career, she had a busy schedule of appearances and flying demonstrations, all the while using her celebrity to promote opportunities for women.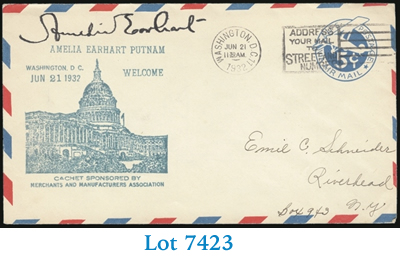 At the height of her career, Amelia and her navigator Frank Noonan disappeared over the Pacific Ocean while attempting to fly around the world. She was last heard from on July 2nd, 1937, and whether she died that day is a mystery that remains the subject of much speculation over eighty years later. In 1963, on what would have been Amelia's 65th birthday, the United States Postal Service issued an 8¢ Air Mail stamp to celebrate her.
Amelia carried mail on some of her flights, and autographed covers exist from various events throughout her career. We have been lucky enough to offer a few signed covers over the years, including Lot 7423 in this auction.
---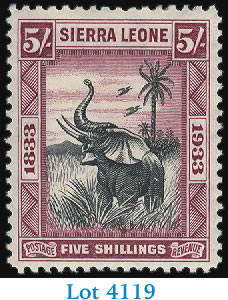 Our 339th Auction is very diversified with plenty of unusual and interesting items. Many lots are from several large estate holdings that we have acquired over the past months. Among the numerous highlights are a Canada used 12 Penny Black (Lot 5711), a Newfoundland mint #C5 Airmail (Lot 5379), a British Columbia mint #3 (Lot 5038), and Bavaria #1-2 (Lots 1577-78).
As in all of our sales there is NO Buyer's Fee. You pay
only the hammer price and the cost of shipping your lots.
Good luck in the auction!